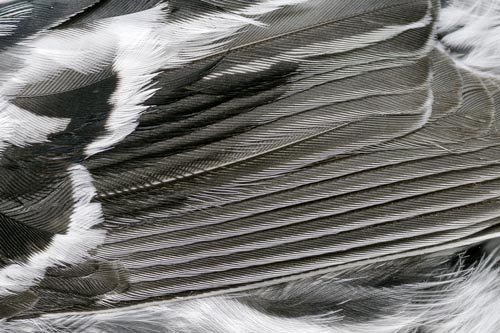 I've been spending these late April mornings moving pachysandra to fill in worn spots where my dog lays after walks. I was about to drive my shovel into the earth, when I noticed –-and swerved just in time to avoid impaling –-a bird. I have handled dead birds before and every time, I am pained by their weight. The sensation of their little bodies in my hand is paradoxically weighty as if I can suddenly measure in tenths of an ounce.
Unsolicited dead birds remind me to take time out to appreciate nature. To memorialize them, I place them on my Epson V700 to scan them in at some ridiculously high resolution so that I can view an enlarged image of their feather patterns up close.
Normally, I'm not interested in their identity, just in their birdness. But thanks to my new bird identification app, Merlin, I learned that my guy is a Black and White Warbler (a guy because he has black cheeks). He comes from a family of tree foragers, good at picking out insects from the grooves of bark. But unlike some of his cousins such as the Brown Creeper, who starts at the bottom and forages upward, or the Nuthatch, who hops downward, my bird is quite talented and hops every which way.
Ugh, I'm getting attached, but it's time for the final step in my bird appreciation routine. To pick up his floppy, rotund body and hurl it into the woods.